Roger Hedgecock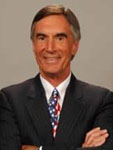 An advertising guru once said it concisely: "Responsible rhetoric brings ratings and revenues."
That just about sums it up for The Roger Hedgecock Show. After all, when a hosts lasts over 20 years on San Diego's KSDO-AM and KOGO-AM, he has to be doing something right!
With Roger's increasing popularity across the nation on the Rush Limbaugh and Sean Hannity shows, it was only a matter of time until he went "national." And now he is!
So why do people like Roger? Because he doesn't ever try to dialogue with someone without having his facts straight. That's right. Roger has credibility because he does his homework – before his show!
His knowledge of government comes from his own experience as past Mayor of San Diego. Along with his grassroots involvement, his state and national influence involves lobbying Congress and succeeding in 1994 to make its Contract with America, Roger has a track record that is impressive.
No matter what the party affiliation of his listeners, Roger's listeners want clarity on the issues of the day. And he's there to give it!
Now, what are you waiting for? He's got the "right rhetoric". He has the ratings and he produces revenues for those who advertise on his show. The Roger Hedgecock Show…your clients belong in the middle of it!
Call us today: Multi-Net Marketing at 800.776.8289