Michael Medved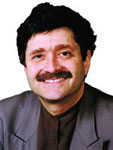 A Baby-Boomer with Culture? Can it be? You betcha! At least 3.7 million regular listeners to Michael Medved think so!
Michael started out being famous as a film critic. People liked him because he wasn't in the "back pocket' of Hollywood. Little by little, he found out that people appreciated his honesty about the entertainment industry. They liked how he pointed out the value of entertainment in a stressed-out society. But they also appreciated his insight for the "reason" certain types of films were being produced!
So it was natural that Michael began talking about other things in life - all the way from the pop-culture to child-raising and changing trends in society. The neat thing about Michael? He provides insight to some "heavy stuff" without dragging his listeners into despair. You see, Michael's a husband, father and provider for his family and he has learned how to laugh.
He laughs because people laugh with him, about him and at him. But he laughs… he's got a great sense of humor. That's one of the things that keeps his column in USA Today fresh, along with providing lots of people who buy his books, both fiction and non-fiction.
Now, don't you think it would be a great time to introduce your clients to Michael's upbeat view of life today? Wouldn't it be something to have Michael make a sincere introduction of your client's products to his listeners? Frankly, it's one of the nicest things you can do for your client. Put them in the middle of The Michael Medved Show. They'll appreciate you!
Call us at Multi-Net Marketing: 800.776.8289.