Hugh Hewitt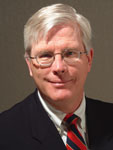 Do you know anybody who wants to listen to a lawyer every day of the week? We do! Hugh Hewitt has been holding listeners spell-bound on radio and television for years. And now The Hugh Hewitt Show is accepting a few new sponsors for 2009!
After all, with a track record with the Reagan Administration and his present professorship at Chapman Law School, Hugh is no novice when it comes to the Law.
But Hugh's abilities really shine when he gets behind the microphone each day and talks to listeners across America. Any issue, whether the present state of government and finance or cultural and religious concerns, is guaranteed to leave callers and listeners more "in -the-know" than at the beginning of Hugh's program.
Along with discussions on his weeknight television show in Los Angeles PBS affiliate, KCET-TV, Hugh devotes himself to writing and talking about legal events that are making history in our own towns and cities across America.
Here's a chance for your advertisers to find their messages in a new context with more exposure for their dollar than anywhere else! And guess what! You'll never have to worry about what the host is saying! Hugh is always "legal."
21st century radio is changing, alright! And Hugh Hewitt is in the middle of that change! Never insulting or snide, Hugh is the "pace-setter" for intelligent talk for America.
Want to know about The Hugh Hewitt Show? Call us at Multi-net Marketing: 800.776.8289. Your clients will love you for it!