Kerstin Poole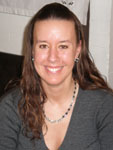 One of the most important people in Multi-Net Marketing is Kerstin Poole, our Clearance Coordinator. When we make a promise about how many stations and in what markets your client's advertising will be heard, you can count on Kerstin.
Attention to detail, with the ability to seek out the truth about individual, regional and network affiliates, Kerstin is valuable to Multi-Net Marketing. She has the ability to get to the bottom of any questions relating to a station or network.
Kerstin is also the person who makes sure the station affidavits are returned to Multi-Net Marketing in a timely manner. She's the record-keeper! Without her say-so, a station doesn't get paid! Important? Absolutely! Especially in these times!