Jane Price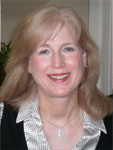 As Operations Manager for Multi-Net Marketing, Jane E. Price has brought her extensive knowledge and skills from the insurance industry to Multi-Net Marketing.
Jane is a perfect "fit" for the broadcast industry because she is a detailed, meticulous person who oversees all aspects of our company.
Whether it's systems, financial or operational, you will find Jane a welcome resource for surviving these tough economic times. She never forgets how important your client's success is to Multi-Net Marketing's business.
Go ahead, give Jane a call and find out how rewarding dealing with a "real person" can be!