Howard Price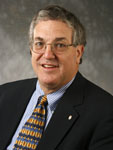 In 1985 Peter Drucker stated, "There are people who do not belong in large organizations."

In 1995, Howard F. Price started a small organization, and called it Multi-Net Marketing. He has kept Multi-Net Marketing small on purpose…to remain lean and effective in the rapidly changing advertising world of today.

With a history in broadcasting that dates back to his college years at the University of Oklahoma, Howard made a name for himself on-air in radio and television. From local to national events, Howard knows the business.

Howard doesn't belong in a large organization. He's quite adept at running Multi-Net Marketing, a smaller company that can move quickly to save your clients money. Getting your advertisers prime positions in electronic media, no matter what the economic times are doing, is what Multi-Net Marketing excels at.