Road & Track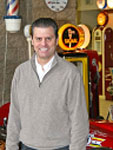 We love it! Another magazine admits the "Need for Speed." Think about it! Instead of only offering its magazine, another publisher has added "radio." Somehow, we knew it would happen. Want to know why? Because in our society, we want information…fast!
When Road and Track Magazine decided it was time for the Road and Track Speed Radio Show, they went right to Ed Justice, Jr. Is he experienced? Does he really know his stuff? You betcha"! Ed has lived "road and track speed" for most of his life.
After 40 years of trackside experience, reporting, along with the pictures to prove it, Ed, Jr. is just the guy to talk about performance upgrades, mobile electronics and aftermarket parts.
Each week Ed answers questions along with his friends, automotive designers, engineers and others who actually influence the roads and tracks of America.
Now, we know you're the smart one in your company. You know how many auto after-market products your clients are advertising in Road & Track Magazine. So picture this: people not only seeing your client's products in the magazine, but also hearing about them from Ed Justice, Jr. each week on Road & Track Speed Radio.
Isn't it about time your client got a positive, fuel-injected boost in its promotional efforts? Ed's a great guy to convince your client that his world of "road and track" is the perfect place for your client to get into the fast lane!
What are you waiting for? "Rev up your phone" and give us a call at Multi-Net Marketing right now: 800.776.8289.