The Money Pit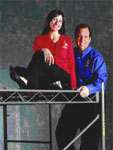 Probably the most efficient way on radio to sell products for the home to both sexes…The Money Pit Home Improvement Radio Show also has the longest name for a radio show in America! But don't let that stop you from listening!
Mixed audiences don't have a chance with Tom Kraeutler and Leslie Segrete…tow of the liveliest hosts on radio today! It's almost like they're married! But they're not! They just know their business!
Tom Kraeutler has a history of inspecting homes, along with being the on-air Home Editor for MSNBC's Home Page Television Show where he reported on consumer protection , crime prevention, energy efficiency and a lot more involving home care and upkeep.
Leslie Segrete is a home improvement expert who makes sure Tom doesn't get bogged down in discussions about sump pumps and foundation issues. Leslie shines with her input on design and the needed skills to really improve listeners' homes.
And let's face it…more people are remodeling, fixing up or adding onto their homes now than in the last 50 years of the building industry! That's why 200 affiliates including WABC-AM in New York have signed on for The Money Pit Home Improvement Radio Show.
Between Tom and Leslie's knowledgeable but fast-paced "how to" and "why not?" discussions with callers, you'll find perfect positioning for your client's product announcements and placements.