Betsy Thairgen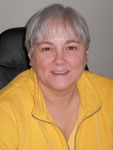 When you talk "radio advertising", you like to speak with someone who's "been there." Betsy has "been there."
With over 25 years of experience from the agency-side to the actual placement of spots on local, regional, national, and network levels, Betsy's the best!
Who else do you know that has a successful career in the positions of media buyer, planner and account supervisor? Who else do you know in this fragile business that has never had to go looking for work? Multi-Net Marketing is fortunate to have Betsy handling things that matter to your "bottom line."
One of the most refreshing people in our business, Betsy Thairgen is someone you really ought to meet…today!