Alana King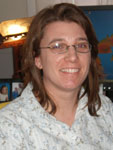 OK, so picture this. An agency is on the phone, requesting fixed- positions for two flights that must get on the air for their client tomorrow. Problem. While Alana is listening to this last-minute request, a fax comes across her desk telling her that the avails that were there just an hour ago are now gone.
Sound like fun? That's just part of what Alana King does for Multi-Net Marketing on a regular basis. And guess what! She's one of those people who is able to "keep her cool" as she "directs traffic."
Keeping all the schedules from overlapping, running into each other as last-minute adjustments from agencies are requested, including additions, deletions or cancellations…Alana is Multi-Net Marketing's Traffic Director and she's great at her job!